By HEAL Staff Writer Jessica Martinez
"My story with The Nest begins in a dark place that I never thought I'd ever find myself," wrote Laura (name and some details have been changed to protect the survivor's privacy). "My whole life I've prided myself on being successful in all areas of my life. I had built my life up to a place where I had a great career and traveled a lot. I had a husband I had loved for 25 years and two beautiful children."
Survivor stories are all unique – some begin in poor conditions, while others, like Laura, are living in what seems like the American Dream. Domestic violence does not discriminate. Regardless of race, age, ethnicity, sexual orientation, or economic status, anyone can be a victim of domestic violence, it occurs right here in our own neighborhoods.
After a rough time, some substance abuse, and a domestic violence situation, Laura was left without a safe place to live. "I called a treatment center in Albuquerque and was accepted on the phone screening, but was told I would have to wait for a bed to become available," she explained. "I had no place to go and was facing having to sleep in my car until I could go to treatment."
"I continued to pray I would find my way through this, and had the idea to search on my phone again for resources that might be available in our community," said Laura. "One of the first listings I saw was 'The Nest' with the word 'HEAL' next to it. It stood right out to me; I thought all I want to do is HEAL myself and my life."
The Nest is Lincoln County's first and only domestic violence shelter run by the umbrella organization Help End Abuse for Life, Inc.
"The advocates at The Nest were immediately accepting, nonjudgmental, and very caring. I felt like I could breathe again," Laura recalled. "Each day at The Nest continued to build my confidence, happiness, and well-being. I developed an Empowerment Plan with the advocates and was determined to conquer it through consistency and small steps."
Laura completed her program at The Nest and was able to move out into her own place. She wants to use her experience to help others going through addiction and domestic violence situations and plans to seek a masters and doctorate degree.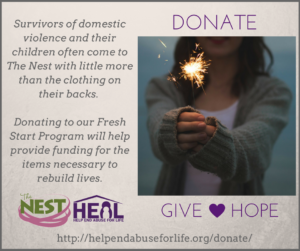 "Without the support of this community, The Nest would simply not be possible," said Operations Director Susanne Francis. "From food contributions to monetary donations to volunteering of time and talents, we are humbled again and again by the way local businesses and individuals alike give to our program."
The Nest gratefully accepts donations at the shelter during regular business hours of 8:00 AM to 5:00 PM Monday through Friday at 26374 US Highway 70 East, in Ruidoso Downs. You can also donate monetarily through their website at http://helpendabuseforlife.org/donate/. HEAL also runs Sweet Charity, a resale boutique whose donations and proceeds directly benefit the women and children residents of The Nest. Donations are accepted at Sweet Charity during their business hours of 10:00 AM to 5:00 PM Tuesday through Saturday.
"The Nest gave me not just my life back, but a new dream for my life. Today I have a toolbox full of armor in life skills. I am a new and upgraded version of myself," said Laura, domestic violence survivor. "I am full of hope, determination, and awe every day because of what The Nest did for me."
If you or someone you know is in an abusive relationship, contact The Nest's 24/7 toll-free hotline at (866) 378-6378 to speak to a trained advocate.