By HEAL Staff Writer Jessica Martinez
In March 2007, the charter board members of Help End Abuse for Life, Inc. (HEAL) first opened the doors at the Nest, Lincoln County's first and only domestic violence shelter. Their major mission was to stop domestic violenc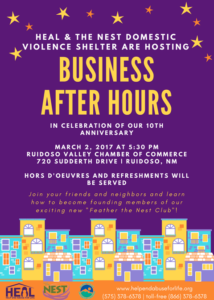 e and provide a safe place for women and children who had their lives and families shaken by abuse.
Over the last ten years, the Nest has served hundreds of clients, numerous community members have served on the HEAL Board, dozens of citizens have volunteered their time, and countless businesses and individuals have donated time, money, and resources to make it all possible.
On March 2nd, HEAL & The Nest will celebrate their ten-year anniversary by hosting Business After Hours at the Ruidoso Valley Chamber of Commerce from 5:30 to 7:30 p.m. Catering will be provided by Dreamcatcher Cafe, with hors d'oeuvres and refreshments served.
"We invite everyone to join us to not only mark this anniversary for Nest, but also to celebrate all the community members and businesses who have made this possible," explained HEAL Board Member Micah Woodul. "We know HEAL & the Nest exist only because of your kindness and generosity, and we want to thank you for recognizing what needs to be done for survivors of domestic violence in Lincoln County."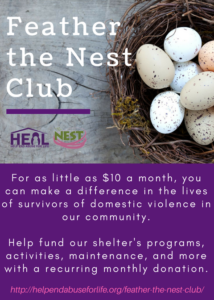 HEAL Board Members will be taking this opportunity to present their new "Feather the Nest Club".
"This exciting new opportunity allows community members – individuals and businesses alike – to take part in supporting our shelter for as little as $10 per month," said Woodul. "The Board thought 'ten dollars for our tenth anniversary!' But also, this very affordable donation amount will make a real difference in the lives of survivors of domestic violence in our community and can be worked into your budget as simply as skipping one lunch out per month."Donations will go towards the Nest's general fund which supports the shelter's programs, activities, maintenance, and more.
Learn more about the "Feather the Nest Club" at Business After Hours this Thursday, March 2nd from 5:30 to 7:30 p.m. at the Ruidoso Valley Chamber of Commerce located at 720 Sudderth Drive. Soon you will be able to sign up for the club online at http://helpendabuseforlife.org/feather-the-nest-club/.