By HEAL Staff Writer Jessica Martinez
When Gwyn Kaitis received an email with details about an opening for the Executive Director position at the Nest Domestic Violence Shelter in Ruidoso Downs, New Mexico, she had been looking for a new challenge and was intrigued by a job that seemed to match her skill set.
"I looked up Ruidoso and the area and liked what I saw, so I decided to apply," Kaitis said.
Hailing from Chicago, Illinois, Kaitis has a Bachelor of Arts degree in Psychology and a Master of Arts degree in Counseling. She previously served for 19 years as Director of the Illinois Domestic Violence Hotline. There she led a team that managed over 600,000 calls from people experiencing domestic violence. She also provided training for numerous community groups, schools, governmental organizations, the Chicago Police Department, as well as consultation and technical assistance on issues related to violence against women both in the United States and internationally, working with people in China, Kuwait, and Saudi Arabia.
"I believe women are very resilient and strong, and they can build lives free from violence when given the chance and the tools to escape the abuse," Kaitis explained. "I also believe that abusers are not held accountable for the most part in our society and that communities need to take a more active stand in saying that violence is not to be tolerated."
So far, Kaitis is impressed with the staff and work done at the Nest, Lincoln County's first and only domestic violence shelter.
"The staff are very dedicated!" she said "I also really like that survivors can bring their pets along with them to shelter. I think it is extremely important not to separate families from their pets. Also, pets can have a very therapeutic effect on survivors and their children as they engage in the healing process of leaving an abusive relationship."
She is also enjoying her new surroundings. "Lincoln County is beautiful. There are so many areas that I want to explore! I love waking up and seeing mountains all around. The environment is very soothing and peaceful, particularly since I am coming from Chicago," she said.
In her free time, Kaitis takes pleasure in hiking and exploring, as well as doing mosaic artwork, which has been exhibited nationally. She also has two cats and a 180-pound dog keeping her company at home.
As the new Executive Director at the Nest, Kaitis' goals include continuing to strive for excellence and continuing to be recognized as a model program.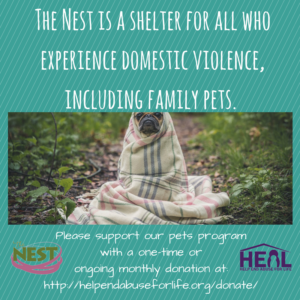 "One thing I would like to accomplish is to make sure women throughout the area are aware that help is available, so I will be doing a lot of outreach in the area to increase knowledge of our services," Kaitis explained. "I'm looking forward to growing our services in response to the needs of survivors and to engage in prevention work in our efforts to end domestic violence. Unfortunately, New Mexico has one of the highest rates of domestic violence in the United States. That means that there is a lot of work to be done. We need to get out into the community and spread the word both that domestic violence is wrong and that there is help available for anyone who is affected by it."
"We are thrilled to have Gwyn Kaitis, someone with such passion, enthusiasm, and experience working with survivors of domestic violence, join our team here at HEAL and the Nest," said HEAL Board President Sheri Rodgers. "We are looking forward to seeing how she can apply her many talents to help advance our programs and improve the services provided in our community."
To learn more about Help End Abuse for Life, Inc. (HEAL) and the Nest Domestic Violence Shelter as well as how to donate to their Pets Program visit their website at www.helpendabuseforlife.org.