By HEAL Staff Writer Jessica Martinez
"Just think, soon you could be off on a much needed vacation and you'll be supporting survivors of domestic violence," said incoming Board President of Help End Abuse for Life (HEAL), Sheri Rodgers.
The New York City Entertainment package has an estimated value of $4600 and features a luxury hotel and tickets to your favorite Broadway show, sporting event or concert.
Choosing the Superior Wine Experience package would allow the winner to indulge in signature wines and a pampering spa in Sonoma, California, as well as a private winery tour in a chauffeured Mercedes.
Dine on Southern Cuisine and enjoy the soulful music of New Orleans if you win and choose "The Home of Jazz" package. This one includes a choice of luxury hotels, a tour of the city, a dinner jazz cruise, and a class at the New Orleans School of Cooking.
The fourth and final vacation getaway option is the "Go to Any Game in 50 Markets!" package. If the raffle winner selects this, in addition to airfare and hotel accommodations, he/she will win two reserved, lower-level tickets to their choice of any NFL, NHL, NBA, or MLB regular season game. This is considered a great Father's Day gift.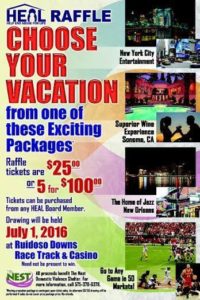 The raffle drawing will take place at the Ruidoso Downs Racetrack on July 1st. A luncheon will begin at 1:00 p.m., where the Turf Club will provide a free sandwich buffet to everyone who has purchased a ticket. Tickets may be purchased up until the drawing time. Limit one buffet per person. Tickets are currently available from any HEAL board member or at The Nest, 26374 Highway 70 in Ruidoso Downs.
Winning a vacation package is contingent upon ticket sales. An alternative 50/50 drawing will be held if sales do not cover the prize package cost. No refunds. One need not be present to win.
At The Nest, HEAL serves domestic violence survivors, children and the family pets. Last year, HEAL served 856 survivors/children, including 378 at The Nest, 274 through Advocacy in Corrections and performed 200 crisis interventions at The Nest and local jails. HEAL primarily serves Lincoln and Otero Counties and the Mescalero Reservation, but also serves survivors from around the nation, including many other Native reservations, at The Nest shelter.
The number for the Nest crisis hotline is 575-378-6378 and is staffed 24/7 by professional Advocates. All information shared is confidential.