By HEAL Staff Writer Jessica Martinez
Ruidoso Warrior Football will kickoff at 7:00 PM this Friday, October 13th against Hope Christian High School. In partnership with Help End Abuse for Life, Inc. (HEAL) and the Nest, Lincoln County's first and only domestic violence shelter, the team will be hosting "Friday Night Purple Lights," an awareness night in honor of Domestic Violence Awareness Month.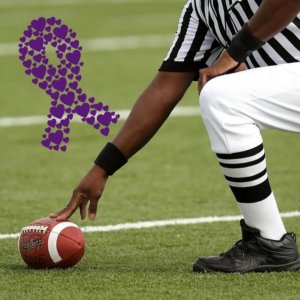 "There are several purposes of Domestic Violence Awareness Month (also known as "DVAM")," explained Gwyn Kaitis, Nest Executive Director. "First, to raise awareness of the epidemic that is intimate partner violence. Second, to celebrate those who have survived and all the work they have taken upon themselves to end the violence in their lives and the lives of their children and pets. Third, this month is an opportunity to applaud those advocates who work to aid survivors and strive to end domestic violence."
The Nest has many traditions honoring Domestic Violence Awareness Month, including a private candlelight vigil held at the shelter each year for residents and staff. For several years, Ruidoso's Parks and Recreation department has participated in DVAM by lighting trees in purple lights at the "Big Y" at Highway 70, as a reminder of the importance of ending domestic violence and increasing the awareness of those affected.
This will mark the second year that Ruidoso Warrior Football participates by hosting a domestic violence awareness night. The game will feature a memorial balloon release, and purple stress footballs will be handed out to spectators.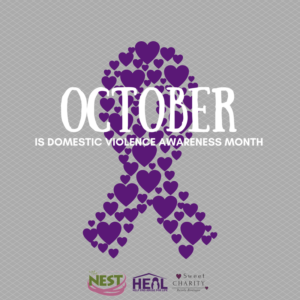 According to a 2010 report by the National Center for Injury Prevention and Control Centers for Disease Control and Prevention, most women who ever experienced rape, physical violence, and/or stalking by an intimate partner, first experienced that abuse between the ages of 18 and 24. One in five of those women was first abused between the ages of 11 and 17.*
"Due to these staggering statistics about abuse happening to our young people, it is important for us to team up with groups like Ruidoso Warrior Football," said Kaitis. "We want to raise awareness among middle and high schoolers and their parents about this serious problem."
To learn more about HEAL & the Nest, visit their website at www.helpendabuseforlife.org.
"We all have a role in ending violence against women and girls," advised Kaitis. "Stand up, speak up, call 911 if you hear anything, give out the number to the Nest to anyone you suspect is being abused."
If you or someone you know is in an abusive relationship, contact The Nest's for help and resources on their toll-free hotline at (866) 378-6378.
*The National Intimate Partner and Sexual Violence Survey (NISVS): 2010 Summary Report, available at: http://ht.ly/jLqj30fHKKr