The Lincoln County Community Coalition on Violence Against Women (LCCC_VAW) was established in 2004. At that time, local statistics put our community "on notice" that Lincoln County had the highest per capita rate of domestic violence in the state of New Mexico.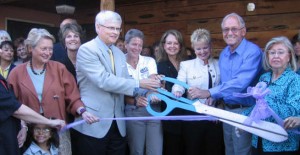 Several local members of the LCCC-VAW took action. Until then, Lincoln County never had a local shelter or comprehensive services for victims for victim survivors of domestic violence. Participation in the 2005 legislative session resulted in a $425,000 appropriation from the state of New Mexico's Capital Outlay Program, earmarked for the purchase of a building that would become the Lincoln County domestic violence shelter, the Nest.
This core group of community stakeholders conducted a survey to determine whether or not a Lincoln County agency should be formed to manage the shelter. The survey results overwhelmingly indicated the community's interest in the formation of a Lincoln County agency, dedicated to addressing the needs of victims of domestic violence.
Thus, HEAL was formed in June, incorporated in July and was issued a 501 (c) 3 status by the IRS in August 2005.