In conjunction with the National Resource Center on Domestic Violence, Help End Abuse for Life (HEAL) and The Nest are running a local awareness campaign.
"Selfies for Survivors" is a chance to support not only the work of HEAL, but more importantly to provide the clients at the Nest with a powerful service that even the best-trained advocates can never provide: words of kindness from the outside.
The campaign invites the community to show direct support for survivors of domestic violence and their children by posting selfies – pictures of themselves – holding up notes with words of encouragement for the families affected by domestic violence.
As survivors leave The Nest and reclaim lives that are now free of violence, they can often feel alone and isolated. By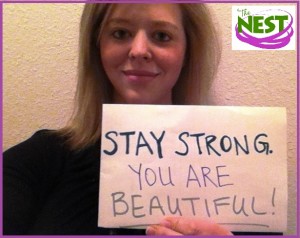 providing encouraging words, even in this basic form, you can provide hope that may well pull a family through the most difficult time of the rest of their lives. When they begin to tell themselves all the reasons they cannot go on, they can receive a smile and a boost in confidence from somebody who believes they can…and that they will.
The ultimate goal is to have a large Facebook feed full of positive messages that remind all residents of the Nest, past and former, that they are loved and valued members of the Lincoln County and Mescalero communities.
Words of support are always welcomed, even long after the contest ends. A positive message from the outside can echo through the walls of The Nest for years to come.
Post submissions on our Facebook page or email them to jnicolemart@gmail.com.