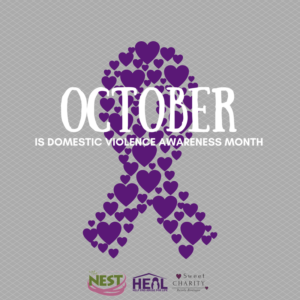 DVAM History
Domestic Violence Awareness Month (DVAM) evolved from the "Day of Unity" held in October 1981 and conceived by the National Coalition Against Domestic Violence. The intent was to connect advocates across the nation who were working to end violence against women and their children. The Day of Unity soon became an entire week devoted to a range of activities conducted at the local, state, and national level. The activities conducted were as varied and diverse as the program sponsors but had common themes: Mourning those who have died because of domestic violence Celebrating those who have survived Connecting those who work to end violence These three themes remain a key focus of DVAM events today. In October 1987, the first Domestic Violence Awareness Month was observed. That same year marks the initiation of the first national domestic violence toll-free hotline. In 1989, the U.S. Congress passed Public Law 101-112 designating October of that year as National Domestic Violence Awareness Month. Such legislation has passed every year since with NCADV providing key leadership in this effort. Each year, the Day of Unity is celebrated the first Monday of Domestic Violence Awareness Month.
—Adapted from the 1996 Domestic Violence Awareness Month Resource Manual of the National Coalition Against Domestic Violence. From http://www.nrcdv.org/dvam/DVAM-history
Proclamation of the President of the United States – National Domestic Violence Awareness Month 2017
"We share a moral obligation to recognize, address, and stop domestic violence. Each of us must be a voice for those suffering in silence and must speak up when we see signs of physical or emotional abuse. Together we can bolster victims' support networks and encourage and empower them to report offenses."
Read the full proclamation by President Donald Trump.